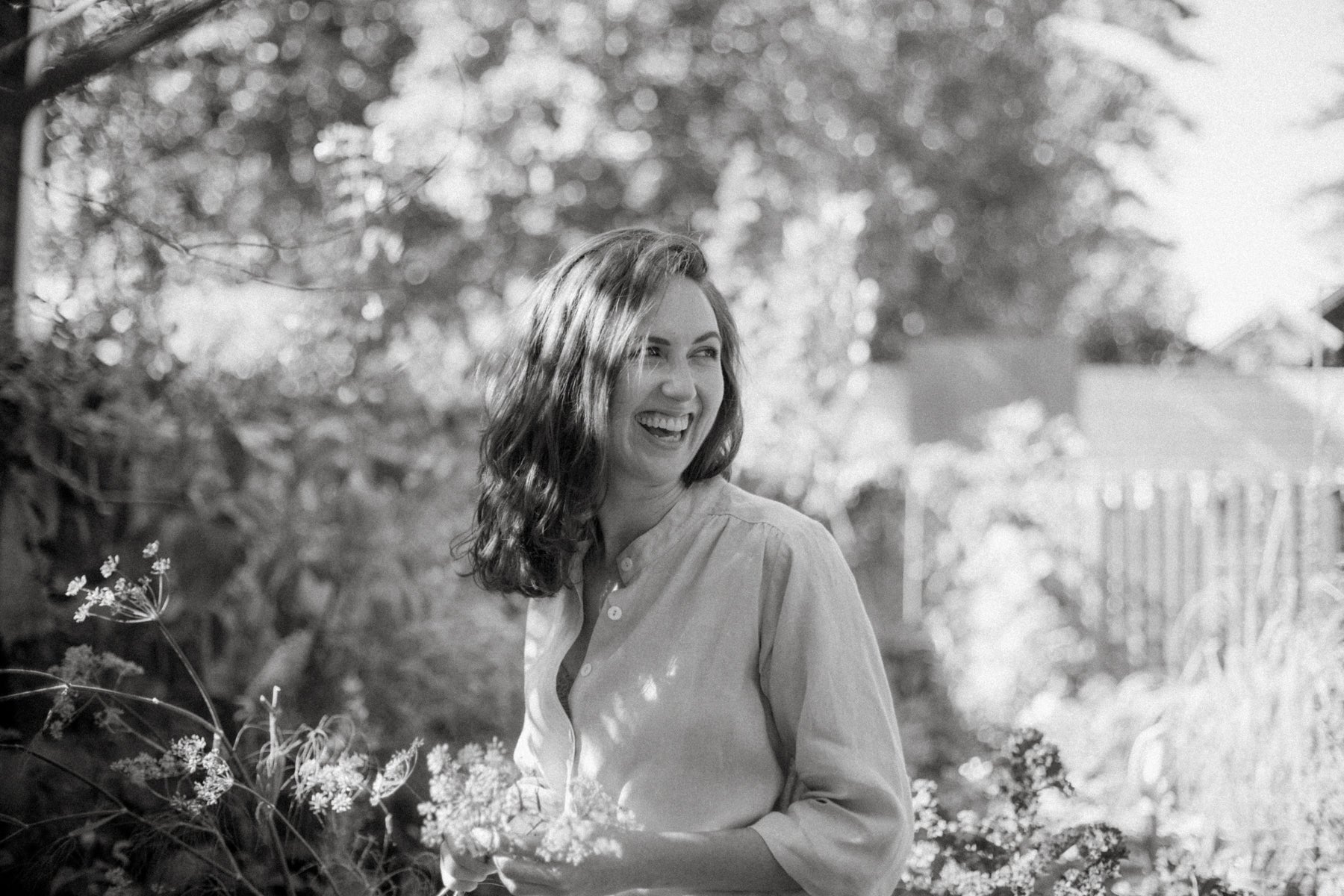 5 Questions | Casey Lister
I invite you to step into the wonderful world of Casey Lister with me.  
She is a very talented writer, photographer and gardener.  Casey lives in the seaside suburb of Cottesloe in Perth where she has created the seemingly impossible - a flourishing garden from what was a barren block in just 4 short years.
I first met Casey through the squares of Instagram when a friend showed me her page.  I was quite frankly astounded that such a garden was possible in the same searing sun, and parched sandy soils I had been battling with since moving to Perth.
When she invited me to her book launch (and yes, she writes wonderful seasonal recipe books based on what you can harvest from your own garden) and I stepped through the doors of her enchanting home I knew I wanted to share her story with you.  She is just so inspiring. It feels to me that she really has managed to create her version of 'The Goodlife', that slow lifestyle we yearn for.  
Casey's story was documented through the lens of Michelle Troop (@michelle_troop) we had such fun together the three of us, Michelle as mesmerised and inspired by everything she saw around her as I was.  It's through her wonderful photos and Casey's own words that I am able to share this day with you. 
Enjoy  x
What inspired you to first start gardening - was there a defining moment?
No, there wasn't really a defining moment for me. It's more like a collection of moments scattered through my childhood. My parents have always gardened. So have my grandparents. So I remember my Nanna deadheading petunias as she waved us off at her front gate, the little bunches of sweet peas she would give me. I remember how my mum and I surprised my granddad one spring by planting daffodils in his garden while he was out playing golf. And my parents' fruit trees down south – in summer, as a kid, I would wake up and they'd already be out in their orchard picking fruit before the day got too hot. I'd climb into a cherry tree, perch on a branch and eat cherries until my stomach ached. These experiences didn't teach me how to garden, not really, but I think they taught me to love plants and nature and not to feel intimidated by the idea of keeping growing things alive. They made gardening seem easy and normal – like something that everyone can do. Which is exactly what it is! But I think without early experiences like these it can be easy to think that gardening is mysterious, complicated or alien. When really it's something so natural and innate that we've been doing it for many thousands of years. 
You transformed a bare backyard into the flourishing garden you have now in just four years. But how did you know where to begin when faced with that empty block? Did you plan it out, or was it more a case of feeling your way forward?
Haha it was definitely a case of feeling my way forward - I'm not much of a planner. The empty block was kind of intimidating, so I totally understand how people can have no idea where to start with their own backyard. At the beginning I had only a few very vague ideas. I wanted to have trees running right through the garden, not just on the perimeter. I wanted to use them to create a sheltered and enclosed space in the centre of the garden that was a bit secret and obscured from vision. I wanted winding paths because I had heard that one thing that makes gardens beautiful is a sense of not being able to see where all the paths lead. It draws the eye forward and gives you a feeling of wanting to explore and get lost in them. But that's pretty much the extent of my planning – really I just started plonking in trees and laying pavers down on the grass to get an idea of where paths might go. I liked setting up the garden this way because it was never too intimidating – the garden grew as my knowledge grew – and everything was laid down flexibly at first. If I didn't like the way the pavers felt to walk down, I just shifted them and experimented with a path in another location. If I changed my mind about a tree that had only been in the ground for a few weeks, it was an easy thing to dig it up and shift it by a few metres. I think it's quite nice to garden in this way – it's more of a dance between you and the plants; you grow together and the garden springs into life in step with you as you learn more and more about how to care for it.   
What are the three plants you could not do without in your garden? 
Argh! Hard question! I'm not sure I can possibly pick only three… I guess I'll say that I love my chillies – they're a fantastic plant to grow in our climate, there are so many interesting varieties and as a chilli-lover I definitely make use of them in my cooking all the time. Then I love my roses – they're a great plant for a cottage garden because they provide height, structure and beautiful blooms. As other plants in the garden change with each season, it's nice to have the permanence of the roses. And then I guess (for now at least) I'll go with poppies – they're one of the first blooms to pop open in spring, you can grow so many gorgeous varieties and the bees love them. But it also feels wrong not to mention: sweet peas, borage, milkweed, my bay tree, my mango and banana trees, beds of blooming salvia, and all my potted herbs! And even now I still feel like I'm neglecting to mention so many plants that I love! Irises! Daffodils! Fennel! Calendula! Cosmos!
What is something gardening has taught you?
Gardening teaches you to be hopeful – it's one of the most beautiful things about it. The act of planting a seed is full of hope – hope that the seed will germinate, that it will grow, that the sun and the earth will feed it, that it will bloom. I have a bad habit of fretting about the future, worrying about things that haven't even happened yet (and probably never will). But I never seem to worry about stuff like that in the garden - it teaches me to live in the future in a much happier way. The other thing gardening has taught me is how to cook with the seasons, as well as the value of fresh produce. There is nothing as good as heading out into the garden at dusk to collect a basket full of veggies to put in my dinner. A big salad filled with fresh lettuce and herbs, bay leaves to toss into gently simmering tomato pasta sauce, giant pumpkins to slow-roast in the oven. There is something so peaceful and fulfilling about growing the food that you eat, and cooking from the garden has proven to be wonderful inspiration for the recipes in my seasonal cookbooks. 
KM garments look amazing on you. Do you have a favourite piece and why?
This is just like the question about my three favourite plants! Very hard to pick only one, because I really love all of Kristin's pieces! If I have to pick a favourite though, I think it would be the Very Useful Blouse – I love the way it hangs and how light and airy it feels! Also though I love the raised shorts and the Utility Shirt – I want one in every colour!  
Casey Lister | www.caseyjoylister.com
Photography | Michelle Troop
Shop Casey's Looks Here
When you first meet Jess you are struck by the kindness and gentleness that radiates from her being. She has an element of the earth mother about her which is normally reserved for a woman of much ...
Read more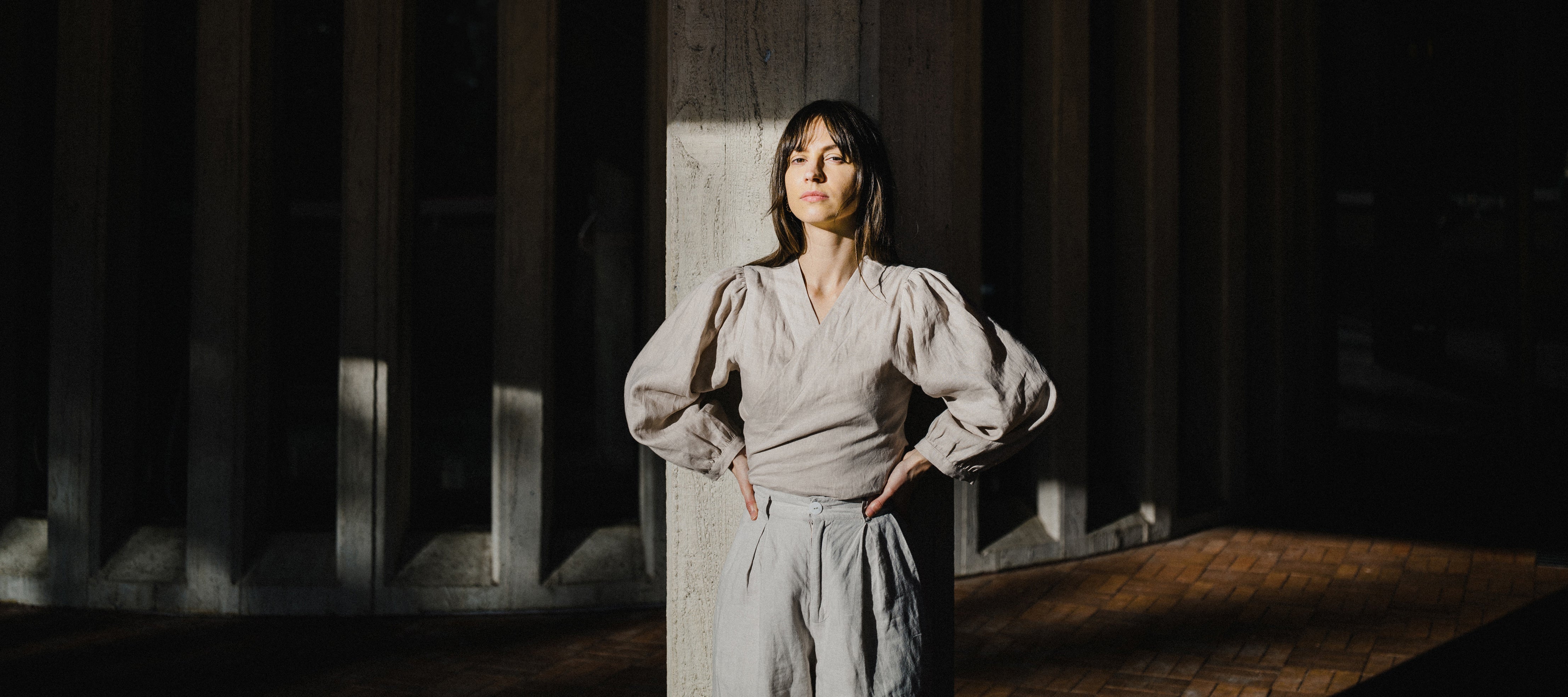 In this edition of 5 Questions we meet Olivia Davies.  She is both a Composer and Photographer. Here she shares with us a fascinating insight into her creative journey. But lets start at the beginn...
Read more