Article: 5 Questions | Sarana Haeata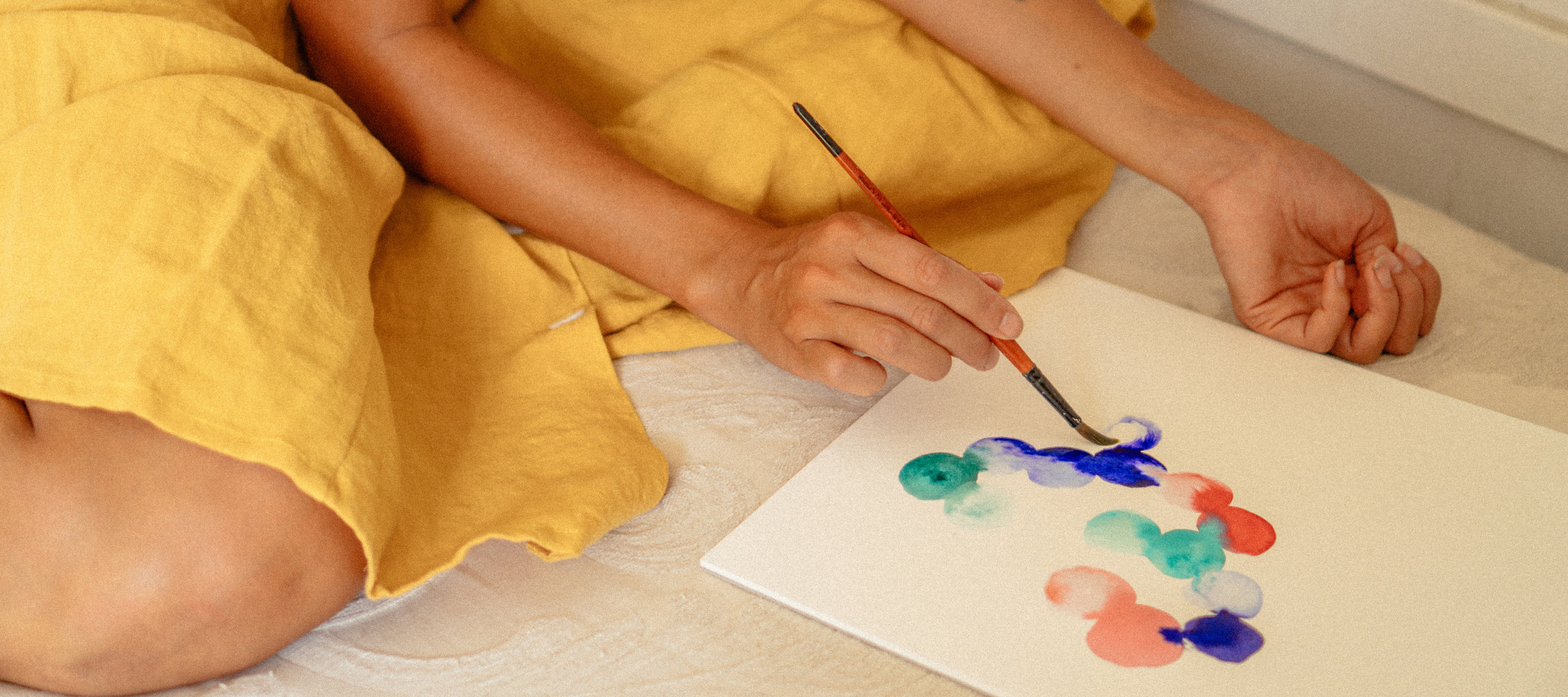 5 Questions | Sarana Haeata
In this journal series, I'll be talking to creative friends and businesswomen in Perth and beyond about how they got started, what inspires them, and their tips for boosting creativity.
Today I'm with Sarana Haeata, a ceramicist and visual artist. Sarana lives south of Fremantle near the beach with her husband and 4 young children. Her home is a welcoming and creative space filled with her art, from paintings and murals on the wall to the unexpected –  the everyday objects one uses in daily living.  
I first met her at the beautiful Stackwood Made Local Market in Fremantle where we both exhibit.  I was immediately drawn to her work, it is beautiful with a candidness which speaks to you -  so much energy and joy of life, it feels free and expressive, just like Sarana herself.   
How did you begin your creative practice and what inspires you?
Creating art has always been something I enjoyed, and I went to a Steiner school, where every academic subject was accompanied by a creative element. In my early twenties I realised, after trying a few other things, that art was my happy place, but I didn't consider it as a career path until I was pregnant with my eldest daughter. Once I had kids I had less time, but was at home more and not working for someone else, which gave me the chance to develop my creative practice.
I get inspiration from interior design, fashion, colour palettes I come across and also what's going on in my life. I tend to seek what I'm missing from my life in my artwork – so if I'm having a calm period my creative output is more intense and busy, and if my life is hectic I'll produce calm or light-hearted work.  
Who inspires you and why?
My mum inspires me because she does things completely in her own way, and because I've never seen anyone give so much.
And on a practical level my husband inspires me because he's the opposite of me. He's very good with the practical technicalities of things, whereas I am more haphazard. He's keen on groundwork, and I feel like he has made my art practice better because he pushes me to do things more thoroughly. He is constantly saying: 'Slow down. Focus on one thing. Do that one thing for three years and become a master at it.'
How do you think women can empower and help each other in business?
I think women are becoming better at announcing themselves behind their business. And I believe in supporting other women and collaborating in any way I'm able to. I tend to seek out women to work with – I find the idea of an all-women team really exciting because in creative fields such as photography and architecture men will often get chosen or taken more seriously than women. This can mean having to look a little harder to seek out the women in those fields to work with, but it's something we can all do.
And in this age of social media I also support other women by sharing their work, so if I have a photo of a designer's work I will share it on Instagram, and mention them. It's about getting out there, seeing what women are doing, thinking about how you can engage with their work – and, of course, buying it when you can.
With the rise of ethical fashion, for example, I have become tuned into buying better, less often, rather than spending little and often as you do with fast fashion. I will happily spend more money directly on one of your pieces. It feels good, to buy directly from a maker. And I also tend to spend up big at Stackwood!
KM clothes looks amazing on you. How do you feel wearing these pieces and what kind of woman do you think would suit the current range?
Some of my favourite pieces are the super basic T-shirts and loungewear. I wear them all the time, because they look good and are mutedly feminine. There's an elegance but also a practicality to them. I also love the Everyday dress, because it's flattering but also very wearable; you can dress it up or dress it down. And I'm always drawn to something like the jumpsuit for comfort.
I think the current range suits a woman with a mind for beautiful and ethical living. Someone who can take time to notice the small details. The move to sustainability and ethical fashion in Perth and around Australia means we are buying clothes differently now, and I appreciate how carefully your clothes are designed and how they are produced locally in Perth. When I think about the work of ethical fashion designers, I am happy to spend a bit more and really appreciate my clothes.
As well sharing your crafts, you also teach. What do you suggest to people wanting to explore their creative side?
You just need to do it! A workshop is a great way to get going as being taught fast tracks you and bypasses a lot of the trial and error. It can be hard to be strict with yourself about carving out time to do something creative, so hooking into a workshop also gives you that space and time to learn. And don't let the idea of needing lots of equipment or a special space stop you from trying – just do it wherever you can.
SARANA HAEATA | ARTIST
Instagram | @saranahaeta
Website | www.hangwithmestudio.com
Shop Sarana's looks here
Images | Jing Song
Copywriting | Zoe Deleuil
When you first meet Jess you are struck by the kindness and gentleness that radiates from her being. She has an element of the earth mother about her which is normally reserved for a woman of much ...
Read more