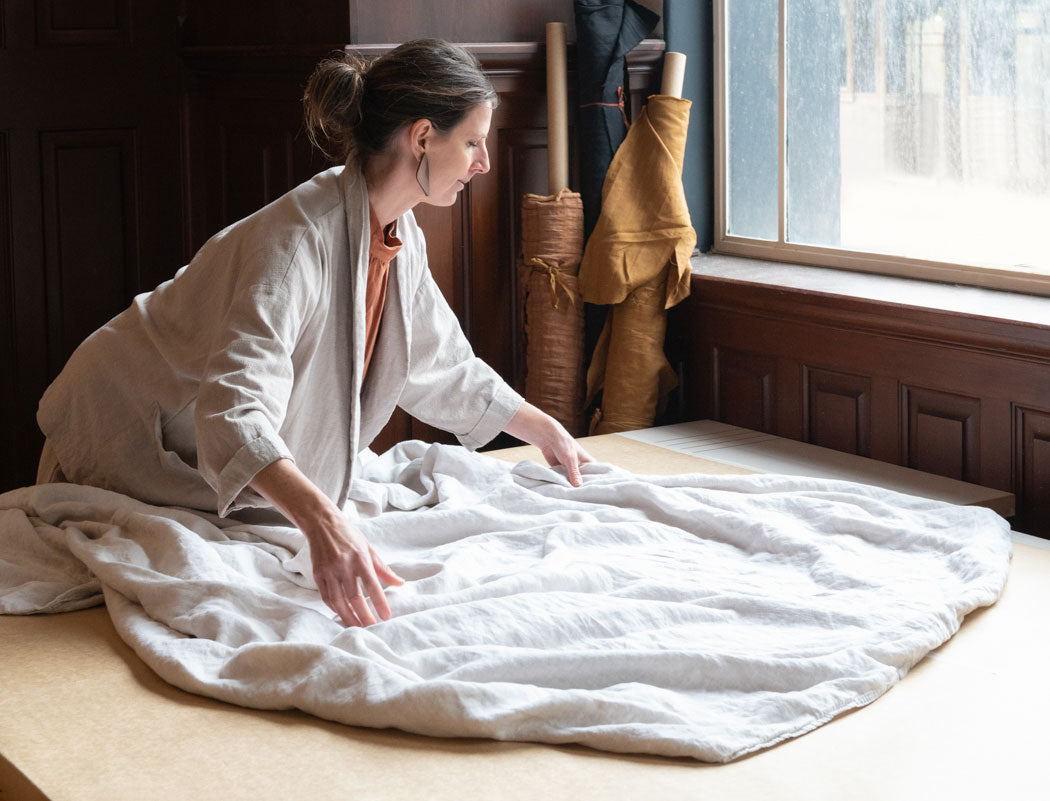 Simple lessons in fabric
In the world of fabric, there's a world of difference. So, we thought we'd bring you something of a simple lesson in fabric, highlighting those that stand out to us. It's all about adjusting our mindset towards seeking out better quality clothes to wear. 
The first important distinction is the two broad categories, which are:
Natural fibres
Synthetic fibres
Natural fibres have benefits from both human and environmental perspectives that synthetics fabrics simply do not have. Natural fibres enhance our wellbeing and connection with our natural environment. They are breathable and absorbent, which helps regulate body temperature and keep us comfortable. Natural fibres work with us – allowing for optimal feel, structure and drape in design that brings a garment to life. Synthetic fibres on the other hand, work against us and our earth - the clammy, sweaty fabrics that make you so uncomfortable because they do not absorb moisture. These are the fibres that pollute at both the manufacturing stage, and later when discarded. 
The use of natural fibres is far more ethical, as (unlike synthetics) they are biodegradable, meaning they return to the earth and won't leave a trace behind. We hope this article will give you a better understanding of why we choose to use natural fibres in all our designs.
Cotton
We all know cotton. This widely used natural fibre is made from the seedpods of cotton plants. It is renowned for its versatility and has amazing natural properties. It is strong, yet soft, easy to wash and resistant to pilling. Cotton is a completely natural product that is reusable, biodegradable, and compostable.
Impact-wise, however, there's a fair bit going on. Growing cotton requires a lot of water, which is fine if the crops are grown in places with high rainfall. Not so good in places with low rainfall, as cotton crops then require intensive irrigation. Then there's fertilizer and pest management, which can cause soil degradation. Which brings us to…
Cotton is considered organic when it is grown from non-genetically modified cotton seed and without the use of fertilizers and pesticides, prioritising the health and sustainability of the soil. This does often mean it takes longer to grow, but there's plenty of research that is leading to more understanding around soil and weather patterns to better optimise organic cotton growing.
Better Cotton Initiative (BCI) 
You might have come across the term 'BCI' on the labels or tags of cotton products. A global not-for-profit, BCI is the world's largest cotton sustainability program. Together with a diverse range of stakeholders across the supply chain, BCI is aiming to transform cotton production worldwide by addressing the negative impacts of cotton growing and processing.
Linen
We love linen - a strong, lightweight fabric made from flax. Flax takes longer to harvest than cotton, but every part of the flax plant can be used. Linen gets softer, stronger and more lustrous with every wash due to its unique structure. It ages so beautifully; bed and table linens have a history of becoming family heirlooms in some countries. 
Hemp
Hemp is made from the fibres of the stalks of the cannabis sativa plant. Even though hemp has a long history of being used in textiles, it is a relative newcomer to the broader textile market. This is a good thing. And with all the benefits to the environment and to us of wearing hemp, we are happy to see it back.
Hemp is highly durable, meaning it is long-lasting. The crops also need far less water and land to grow than cotton. The production of hemp has other benefits too, such as no pesticide requirement and better regenerative properties. Hemp actually regenerates the soil, and like linen, it becomes softer with wear and care, bringing us long-term joy from our clothes. 
Organic hemp and OEKO-TEX® certified hemp
Ever heard of OEKO-TEX® STANDARD 100? If you see this on a label, you can be certain that every component, i.e., every thread, button or other accessory, has been tested for harmful substances and that the item has been found to be harmless to human health. The test is conducted by OEKO-TEX® independent partners against extensive criteria. 
OEKO-TEX® certification is all about how the fabric is processed, including things like dyes and finishes.
GOTS
GOTS stands for Global Organic Textile Standard, and it covers all the bases. GOTS sets out strict and binding ecological and social parameters in the growing of fibre, textile production and clothing manufacture. Parameters include minimum organic fibre content, processing with the least possible environmental impact, under strict controls, and with respect for labour conditions. It's the gold standard. 
At Kristin Magrit, we design in response to our natural environment, as strengthening our connection with nature is a key value. An essential way of upholding this value is through the fabrics we select to create our garments and collections. These fabrics provide the foundations for our comfortable, long-lasting and much-loved designs. 
Written by Anthea Somas |
wordwax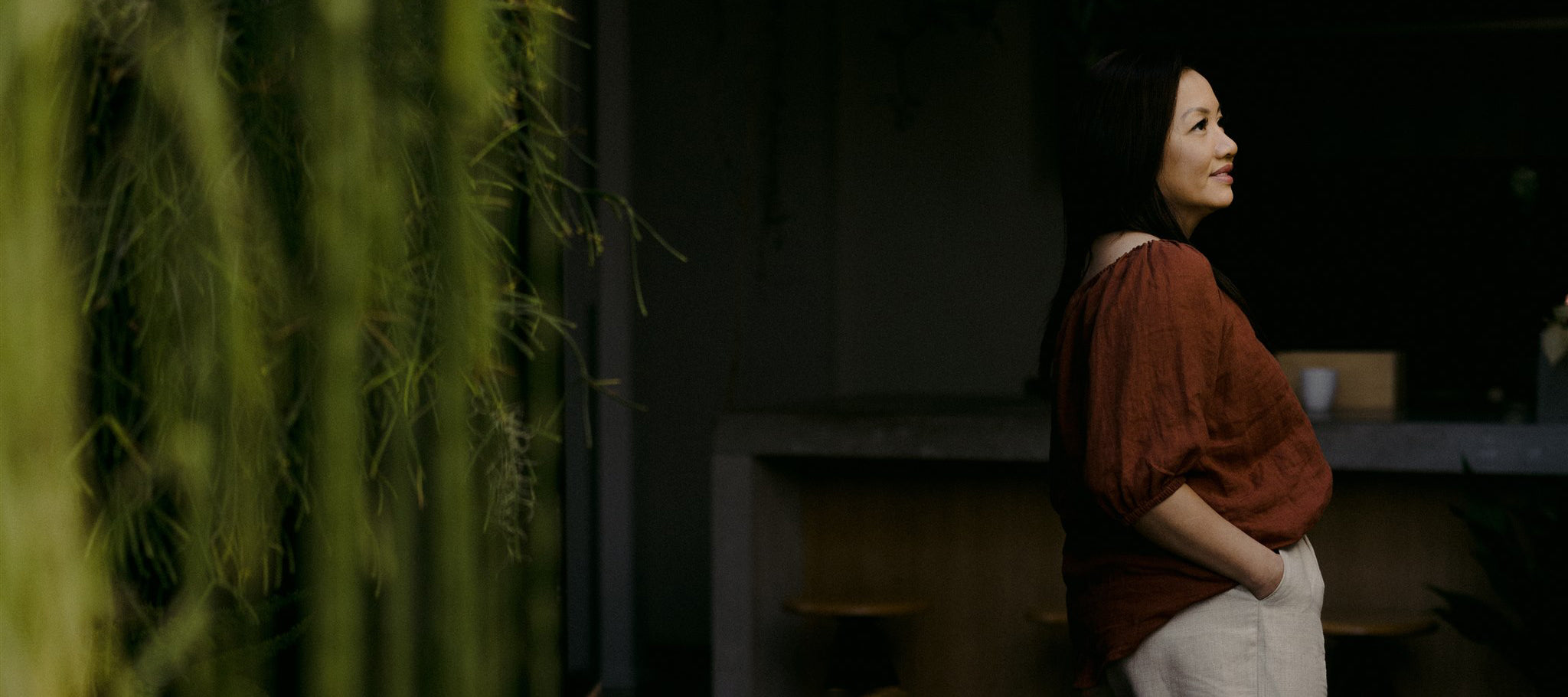 Fesi Djojo -  inspirational mother, businesswoman and plant stylist extraordinaire, discover Fesi's incredible home filled with over 550 plants, through the lens of the wonderful Flossy Photo.
Read more